Discussion Starter
·
#1
·
Scrambler First Ride Impression
Two of our very own forum members got a chance to test ride the new Ducati Scrambler. They both shared a lengthy write up, from talks about the handling to comfortability. I'm sure we all can get ideas from the feedback Hedonism and JET has shared.
Here is what they had to say about the new 2015 Ducati Scrambler!
@Hedonism
from Ravenna - Italy

ok, first of all, forgive my english.... this is my very first review in english

----
the general quality is higher than it looks on pictures, parts are large scale ones but look nice as well the general assembly, electric wire or components are not clearly visible and this is generally not easy on a full naked bike.

the "cockipt" is nice even if it is very "compressed" in a single instrument; both handlebar and pedals' controls are well placed, the sidestand is easy to open and close; the "rapid" throttle is cool! Not the same is the headlight switch…. it looks poor and breakable (the only black spot)

once on board, position is upright and the wide handlebar is comfortably held. the footrest are close to the saddle, so tall riders must fold their legs; furthermore, even if the position si comfortable, the foam inside the saddle looks to be too soft for a long ride.


Riding it:

turned the key, just a touch to the e/s button and the engine (well fitted inside the nice tube frame) starts with a cool and really Ducati sound, the voice is soft, but not too much as pres.....
For More: My First Test Ride

@JET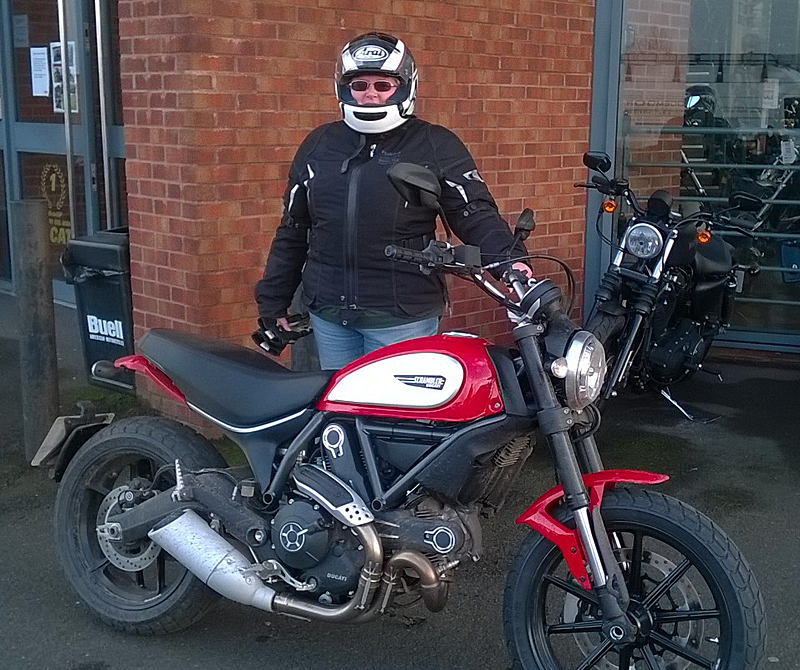 I finally got the test ride on the Scrambler today - about 18 miles on roads that got progressively wetter ... and smaller. I did briefly own a V-twin (a Cagiva Raptor) about a dozen years ago, but this was my first ride on a Ducati. It took a bit of getting used to as it has a VERY quick action throttle whereas it is quite a slow action on my FZ1, but I loved it. It should also be added that it only had a little over 30 miles on it when I took it out, so it will still have a lot of settling to do. It feels very grunty low down the rev range, its handling is light and surefooted, even on soaking lanes, the brakes are we....
For More: Ducati Scrambler Demo Ride
Also, keep an eye on this
new section
for new Ducati Scrambler test ride reports from our fellow members.